For us in California this has been a COLD winter.  Ha!  Ha!  I know, I don't mean to be wining.  My cousins in Virginia send us photos of the 10 ft. snow drifts they acquired in the last storm.  They hoot when I tell them it is raining and no one will go outdoors!!!  Yes, we Southern Californians are spoiled!!  A little rain???  I mean the mountains are glorious!!  Skiing and snowboarding are back in style.  We are really having what we call a winter!!
For us it is actually cold.  The low is 42*.  We have extra blankets on our beds and the sweat shirts and jackets are close at hand.  My daughter and her friend spent the night in a tent outdoors last night with an area heater!  Ha!  Ha!
Now, my son and daughter in law live in a Alaska with three under the age of four.  That, of course, is real cold.  I don't mind saying it kind of freaks me out.  How do you care for little ones in that kind of cold???  The first thought is that you just never go outdoors.  But, that, of course, becomes very boring very quickly.
How do you make it around in the cold with very little ones?  My concern is they can not tell you when they are uncomfortably cold.  Even when they can tell you, often they are not inclined to.  I am remembering my in-laws taking my eldest son camping when he was eight or so.  The grown ups were concerned because they were well into the evening activities before they realized the boys did not have jackets.  They must have been freezing, but just never spoke up.  I am guessing we simply have to ask more questions regarding their comfort in the cold.  As adults we have to remember to ask on the off shot that they will not tell us.
For infants, there is the consideration that they are overdressed, causing them to overheat.  This puts us in the position where we have to be diligent.  Most often babies will be dressed in something with long sleeves and legs with attached feet/socks.  This should keep them warm indoors with the temperature comfortable for all ages.  At night we add a swaddle.  Depending upon the swaddle this can add several layers of fabric,  eliminating the need for blankets, etc.  The age and activity level of your baby will have an affect on how well the swaddle stays on.  In almost all situations you baby should be perfectly comfortable with these accessories.
Personal note: Even though I have wrapped hundreds of babies, I am unable to use the lovely gauze blankets for swaddles.  There is just no way that even newborns stay wrapped in those things when I administer the wrap!  Ha!  Somewhere during the night my baby has wiggled her hands to her neck and resembles someone trying to escape a straight-jacket.  Those precious little hands wack her in the face and wake her, defeating the purpose of the swaddle in the first place.
The best wraps I have found are those containing velcro.  These allow for the sleep ware  then the swaddle.  There are several brands of these listed below for you convenience.  They help baby relax, as in utero, and encourage much better sleep.  As baby matures she will outgrow the need for swaddles.  But they are a lifesaver when used.
When I worked in the hospital setting I would often enter a postpartum room to find the heat unbearable.  Mommy and Daddy have the heat up believing this is best for baby.  Not so!!!  Most often the belief is that you dress baby the way you would dress for the current temperature then remove a layer of clothing.  This is best for several reasons:  Most often baby will be in the arms of another, absorbing their body heat.  Too much clothing will cause baby to perspire and overheat.  Also, we are very aware of covering baby with something to keep her warm.  With out realizing it, we are providing too much warmth.  Every baby is different.  As you and your baby become better acquainted you will know better that anyone how best to dress and comfort her.
Everyone you know will have an opinion on how much clothing your baby should wear. Talk with those you trust, family members, pediatricians, and friends.  Then watch your baby closely and find out what works best for your family. When others give suggestions, smile sweetly and thank them ever so kindly for their help.  Then go home and do what you believe to be best for you!!!  Ha!  Arguing with others just frustrates you.  They truly believe they know best.  Let them believe it!  Your baby is your responsibility.  Through trial and error you will find what works best for you, be comfortable with that!  Every parent learns how to do this!  YOU WILL TOO!!!
JUDY
available at Target Stores
SwaddleMe® Original Swaddle 2pk – Sleepy Forest (S, 0-3 mo)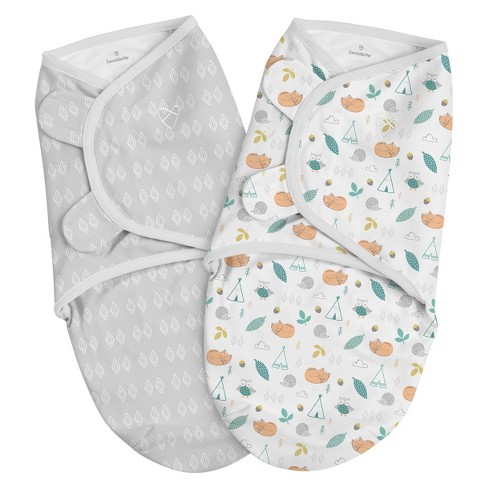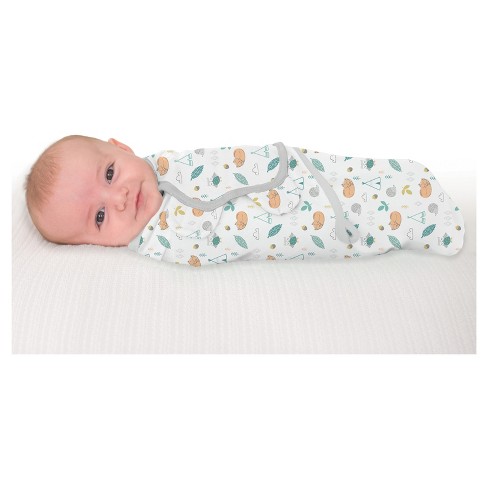 HALO® Sleepsack® 100% Cotton Swaddle – Elephant – NB