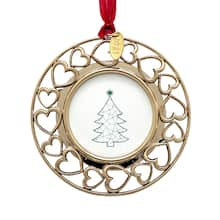 Our family's most favorite ornaments are of our kids, now in the 30's as babies. So much fun to pull those out each year and remember those pudgy smiling faces!!! All it takes is a little diligence and a shoebox! Ha, yes, we store them in shoe boxes. I keep them in my closet so I always know where they are! These are literally one of the few things I would save incase of a disaster! They are irreplaceable!
As you see, the date is already on the ornament! Important, because you will forget which photo is from which year. The date makes a world of difference. Always write the first and last name of the child photographed on the back of the photo along with the date. Again, life continues and our memories fade. You want to get it right, be sure to label each photo.
Having may ornaments on the tree allows all to see the progression of each precious child. It is truly amazing! Making these photo ornaments for your folks is a priceless gift to them. Nothing is more precious than a grandchild.
I have also begun making these for relatives as they become grand parents. Again, photos have a hallowed place in our hearts. They allow us to remember those first moments of life. They are priceless.
I am a bargain hunter so I have not checked these out at other sites online. That may be your thing. Starting at this time of year takes the pressure off you as you organize. Figure out which photos you want to use. Print them or have somewhere like Costo print them for you. Have them ready to go when you find the frames you like. Put them together and send them off.
I purchase the ornaments at Michaels Craft Store when they go on sale in early December. Sometimes I buy them in the after Christmas sale when they go down to clearance prices. I prefer the ones with larger photo areas because I have a greater choice of photos to put in them.
Have a wonderful holiday enjoying your friends and family. This year this time will be more precious than ever!!! JUDY