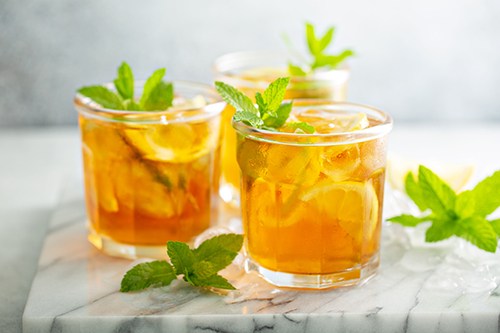 We are fortunate to have a large mint patch in our back yard that makes flavorful iced tea. Fresh mint is the taste and scent of summer that reminds me of childhood, family reunions and hot summer evenings.
     Try this summer-inspired iced tea recipe to cool off. We typically use spearmint or apple mint, also known as wooly mint. You may easily adjust the amount of sugar to taste (we typically use less). Mint iced tea is refreshing for a summer potluck or backyard gathering.
     You can brew any tea.  If you are not in a hurry, make sun-tea.  Fill a glass gallon jar with fresh water, tie 6 green tea bags together and place them inside.  Cover the top and set it on a window sill in direct sunlight for the day.  Crush 5 or 6 sprigs of fresh mint and add to the bottle before serving.  Sweeten, you can use sugar, agave syrup, honey, your choice.  Pour into chilled glass mugs or glasses with ice and serve with a sprig of fresh mint.  So refreshing!!!
     We'd love to hear your favorite summer recipe or growing your own food story. Happy summertime to your family!