This is our second installment discussing the value of proper nutrition after birth.  Here are more suggestion used in the Chinese culture to aid new moms in healing and recovering from birth.  The Chinese Postpartum Diet also serves mothers in that it is rich in proteins and nutrients that help hormones stabilize and provide good lactation.
Several of these entries are taken from websites written for Chinese mothers.  The term "confinement" refers to the month after birth when moms usually stay at home to recover.
Disclaimer:  As you look over the Chinese nutrition websites you will see some prettying interesting items:  Snake Head Soup, Pigs Feet Salad, etc.  Please ignore these if they are troublesome to you.  Or, stretch yourself and try some new things.  Either way, we are looking at nutrition from a culture different than our own.  Look at it as an adventure.
https://whattocooktoday.com/chinese-confinement.html
Confinement food is the food that is prepared during this first month after birth. It is special and tailored to nourish your body, help you to recover/heal and to boost milk supply for the baby.
Here is what to focus on for confinement meals:
1. High protein and low fat food
Protein helps to promote wound healing and rebuilding inside our bodies.   Low fat food is to prevent indigestion.
2. Small frequent meals
6-7 small meals throughout the day is suggested. 3 main meals and soups and teas in between. It helpes to sustain your energy throughout the day and to prevent indigestion.
3. Adequate calories
You will need to rest after you baby is born. Even though the postpartum moms don't move around much adequate calories are needed to help with recovery, energy needed to care for a newborn, and breastfeeding. Adequate calories doesn't mean "empty calories" (food that doesn't serve much nutrition other than racking up your calorie quota). Tea such as red dates tea, dang shen tea, goji berry tea, and Chinese herbal soup are often used to add adequate calories.
4. Food rich in iron
Blood was lost during delivery/C-section and therefore it is important to eat food rich in iron such as: animal offals, pork, chicken, fish, dark green vegetables.
5. Adequate hydration
It is a myth to say that a postpartum mom should not be drinking water during confinement. It is important to keep yourself hydrated with water, milk, Chinese herbal tea, Chinese herbal soup. Avoid and coffee and caffeine tea in that they act as diuretics, causing the body to stuff off water.
6. Include dietary fiber
It is not uncommon to become constipated during confinement because of less activity.  Including fiber in you diet will help your system reboot more quickly.
SLOW COOKED TUMERIC GINGER CHICKEN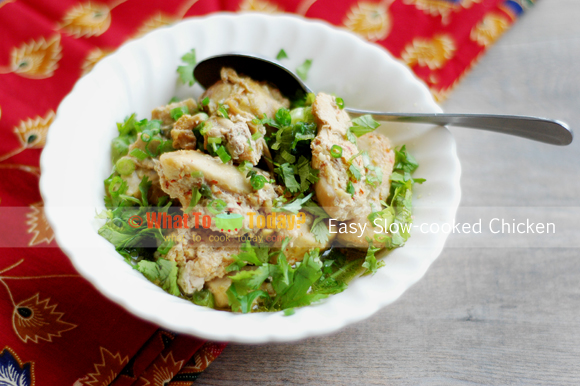 Yield:  4 servings
INGREDIENTS





1 1/2 lb. boneless chicken thighs/breast – I prefer thighs

4 cloves garlic – finely minced

 2- inch ginger slices – finely minced
1/2 tsp. turmeric powder
1 tsp. red cayenne pepper – optional

1/4 cup of chicken stock or water

Salt to taste
Garnishes:

2 stalks spring onion – finely chopped

Small bunch coriander leaves – roughly chopped
INSTRUCTIONS
Cut the chicken into large chunk pieces. Add the garlic, ginger, turmeric, cayenne pepper (if using) and let the chicken marinate for about 30 minutes.




When ready to cook, place a large heavy-bottom pot with tight-fitting lid on stove-top. Place the chicken inside the pot. Add the chicken stock/water. Bring to a boil and then lower the heat to a gentle simmer and cover the lid. Let it cook for the next 1 to 1 1/2 hour. The meat will be really soft and juicE.
When ready to serve, sprinkle on the spring onion and coriander leaves and enjoy! This recipe is super easy and super flavorful